What are WeChat moments?
WeChat moments are a simple newsfeed with updates (mostly image or video based) from your WeChat contacts. You can think of it as roughly similar to a Facebook news feed or Instagram feed. However, there are a few key differences:
You can only post pictures or videos directly on WeChat moments. You cannot just post a text post or share an external link (except with websites which have special WeChat sharing features or sharing WeChat official account links).
WeChat moments are organised chronologically, with no special algorithm for showing posts to your contacts.
WeChat moments posts are only shared to your direct contacts (if you set them to be publicly viewable, this just means that if someone directly searches you on WeChat they can view your moments posts, but doesn't mean they are being automatically shared more widely).
Likes and comments on WeChat posts are only viewable by mutual contacts (unlike e.g. Facebook where if you like a public post it automatically shares the post to all your other contacts with a note saying "Katie liked…").
You can add tags and locations to WeChat posts, but this doesn't help increase their reach at all as you cannot search by tag or location. It is purely for the benefit of showing to your WeChat contacts where you are.
This essentially means that WeChat moments are more private and have very little viral sharing capabilities. However, they are still very valuable tools for keeping your students/ parents updated and sharing valuable learning content which helps to build your credibility and online teaching brand.
How can you reach more people using WeChat moments?
Although WeChat moments is intended to be a more private platform, it IS still possible to build some organic reach. Since WeChat does not have a "share post" button, but parents may still want to share your post if it is genuinely valuable or interesting, usually WeChat users will download the images instead and re-upload them to their own WeChat moments or in group chats.
To ensure you are still credited and anyone who sees their re-uploaded posts can contact you, I would recommend editing in your WeChat QR code to every image or video you post. You could also add a short message encouraging people to add you for a free trial class.
You could also incentivise parents to share your WeChat moments, for example offering them a small discount if they share a promotional poster or one of your QR-code-tagged moments pictures on their own moments or in a group chat (ask them to send you a screenshot as evidence). Parents are also often keen to share posts which particularly praise their student and show off their achievements.
Example moments posts
Here are a collection of ideas and examples of posts you could post on WeChat (note that some images come from my time on PalFish, which had a very similar moments feature). Remember that your goal is always to be adding value to your students, showing off your teaching skills and representing yourself as a professional teacher.
Lesson slides or flashcards
An easy way of showing your teaching skills and adding value to your students is to post moments focusing on lesson contents. For example, you could post screenshots of key lesson slides (e.g. a grammar point with examples), add flashcards relating to the keywords, or upload images of worksheets with extra practice questions.
I also like to include a Chinese translation of the keywords (for simple vocabulary words you can usually rely on Google translate, unless it is a word with multiple possible meanings) and fun emojis.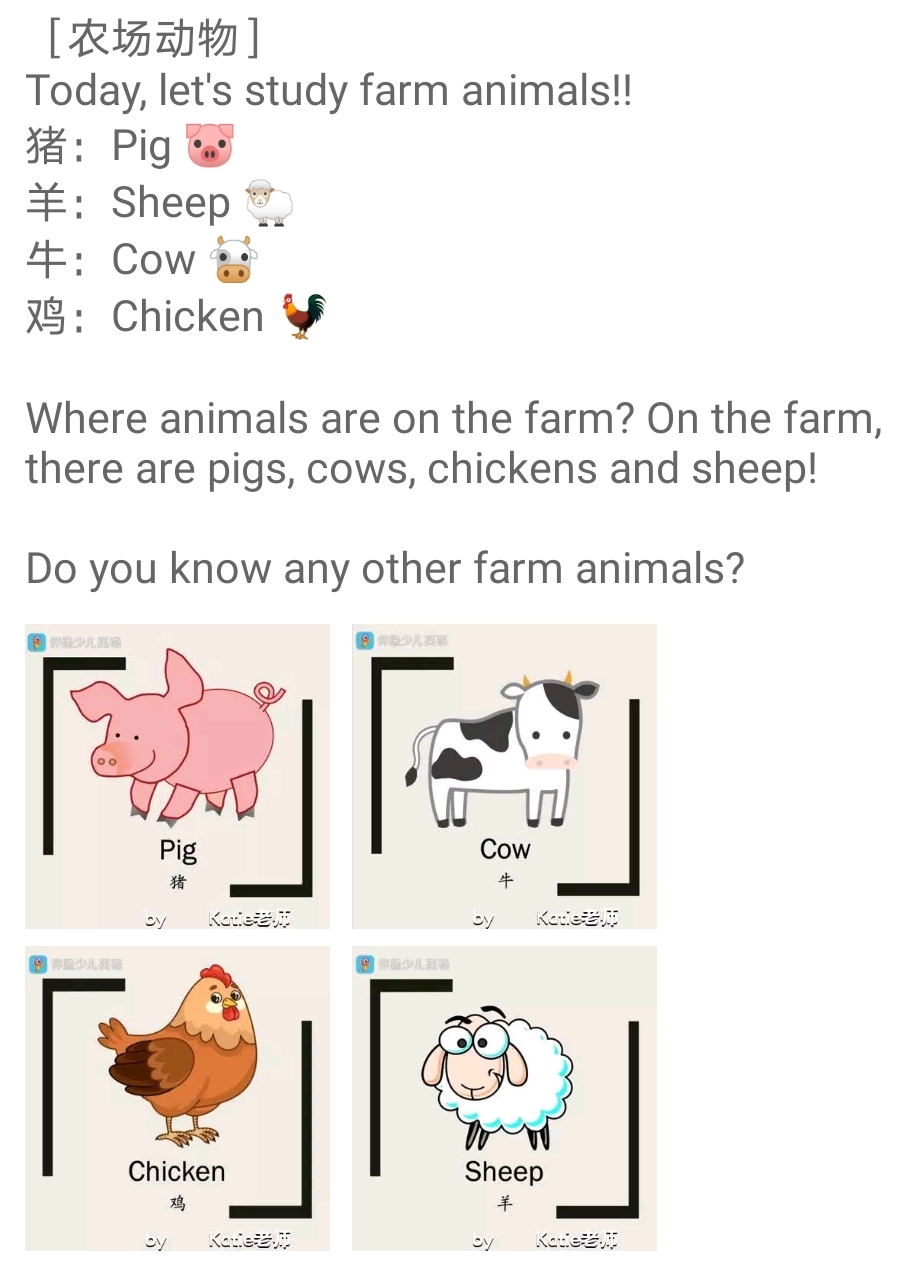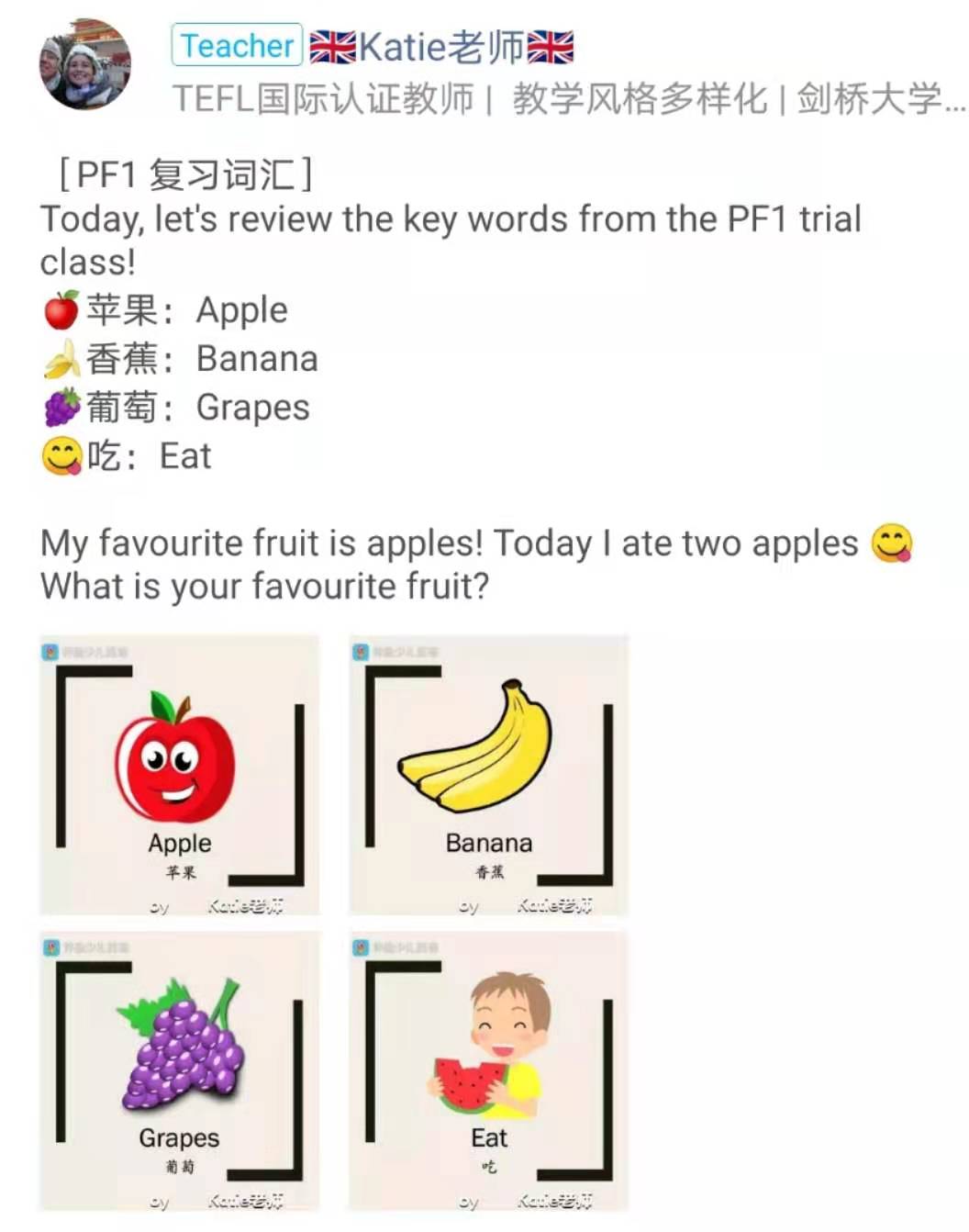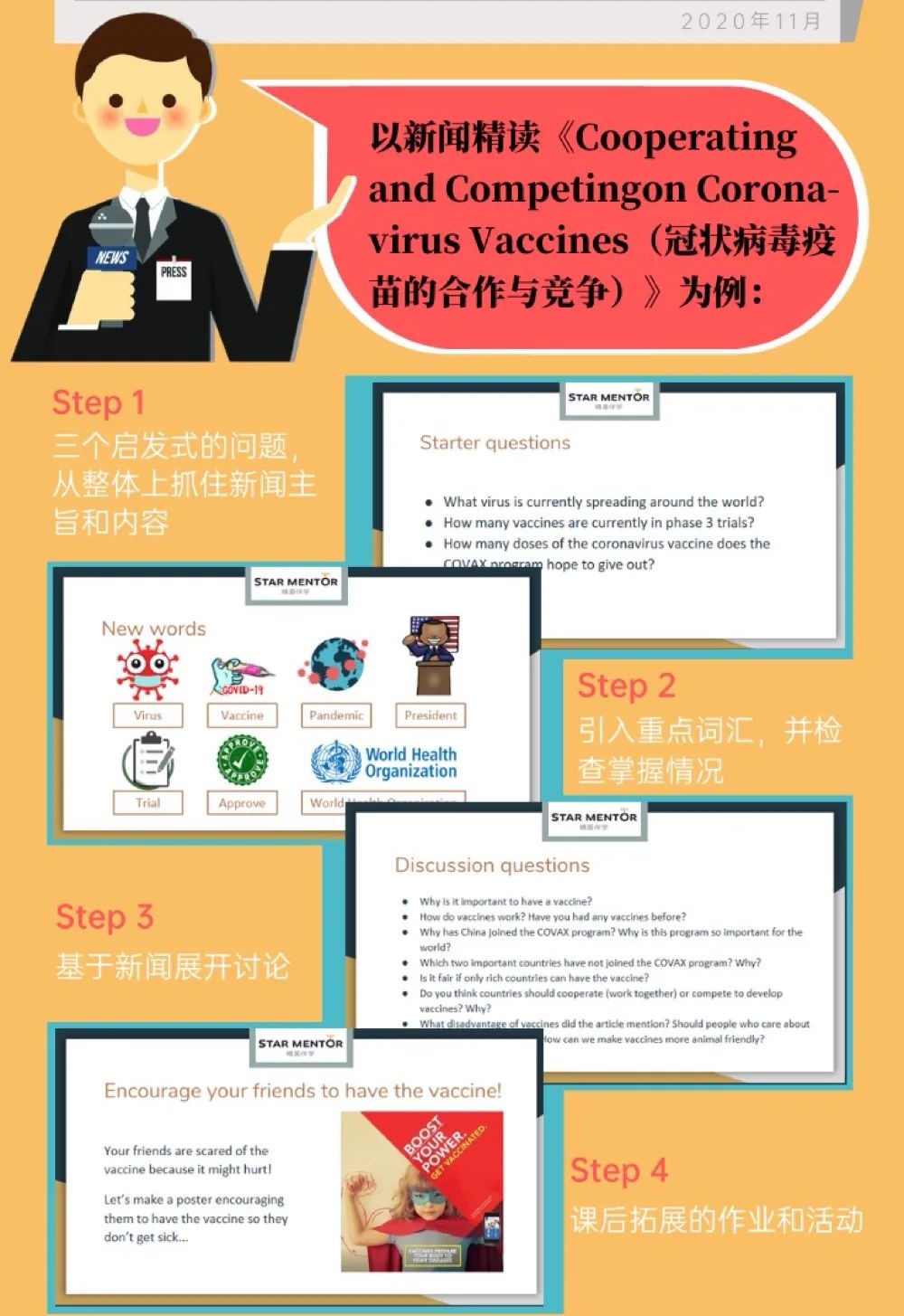 Encourage students to interact with your post by writing a comment using the new sentence structure or vocabulary. You can then reply back to them with feedback or to start up more of a conversation, which is a great way to build relationships and add value.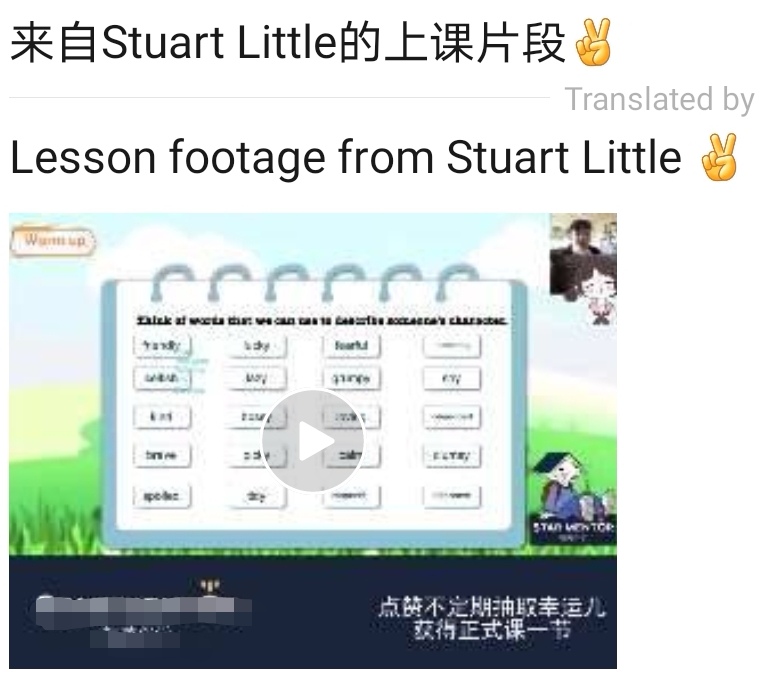 Class video clips
WeChat allows you to upload short (max 30 second) video clips as a WeChat moment. One of the best ways to show off your teaching skills is to share clips from your actual lessons – this helps potential future students see your teaching style and in-class personality.
Although China does tend to be more relaxed with privacy, I would recommend asking parents for permission before sharing any class clips showing their children or editing the video to blur out/ put emojis over students' faces. You could also simply record mock class clips with no students present.
Congratulations posts
A great way to celebrate your students' achievements is to send them a fun certificate after completing a set number of classes with you (e.g. at the end of a unit or after 50 classes).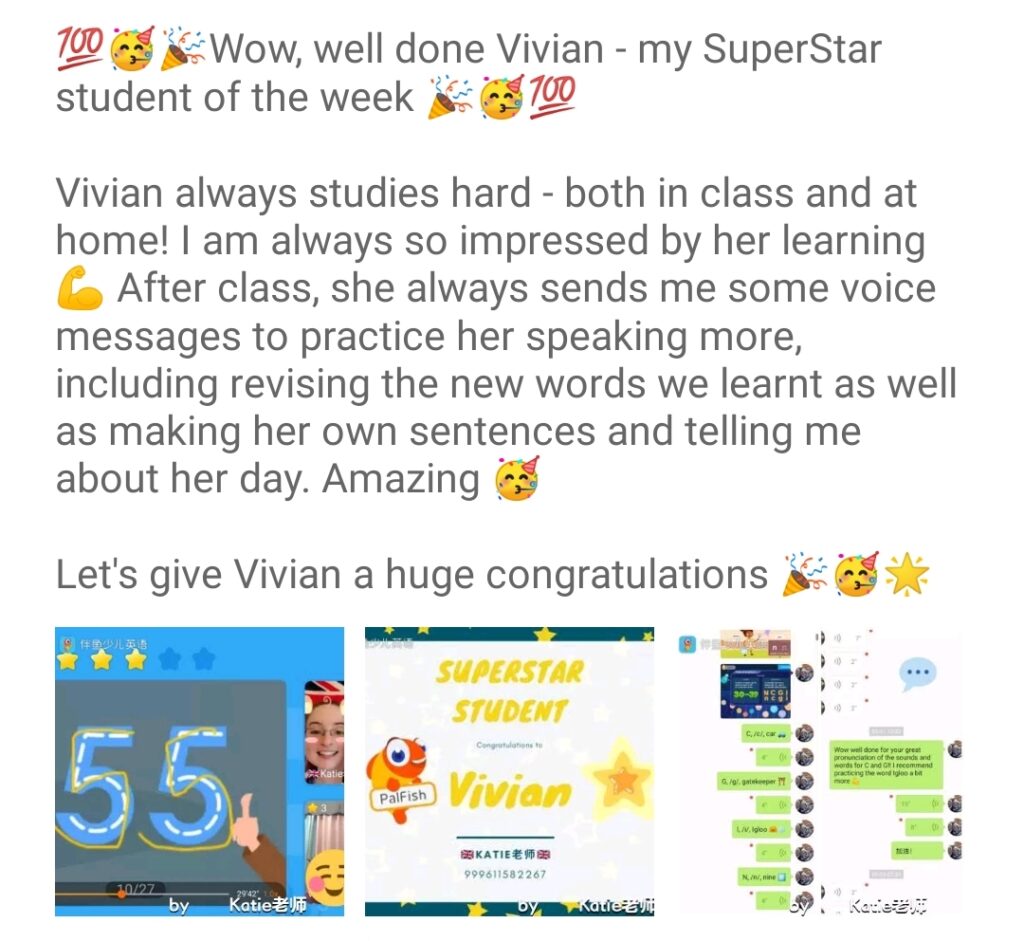 A similar idea is to have a "student of the week" award where you select a student who has made particularly good progress or performed outstandingly in class (pick someone different every week…).
You can then upload a picture of this certificate along with some examples of the student's learning (e.g. screenshots from class, homework, etc) to your WeChat moments. For parents, they love that you are showing off their child's awesome progress, and for you it is a great way of demonstrating your teaching skills and proving that you already have happy customers.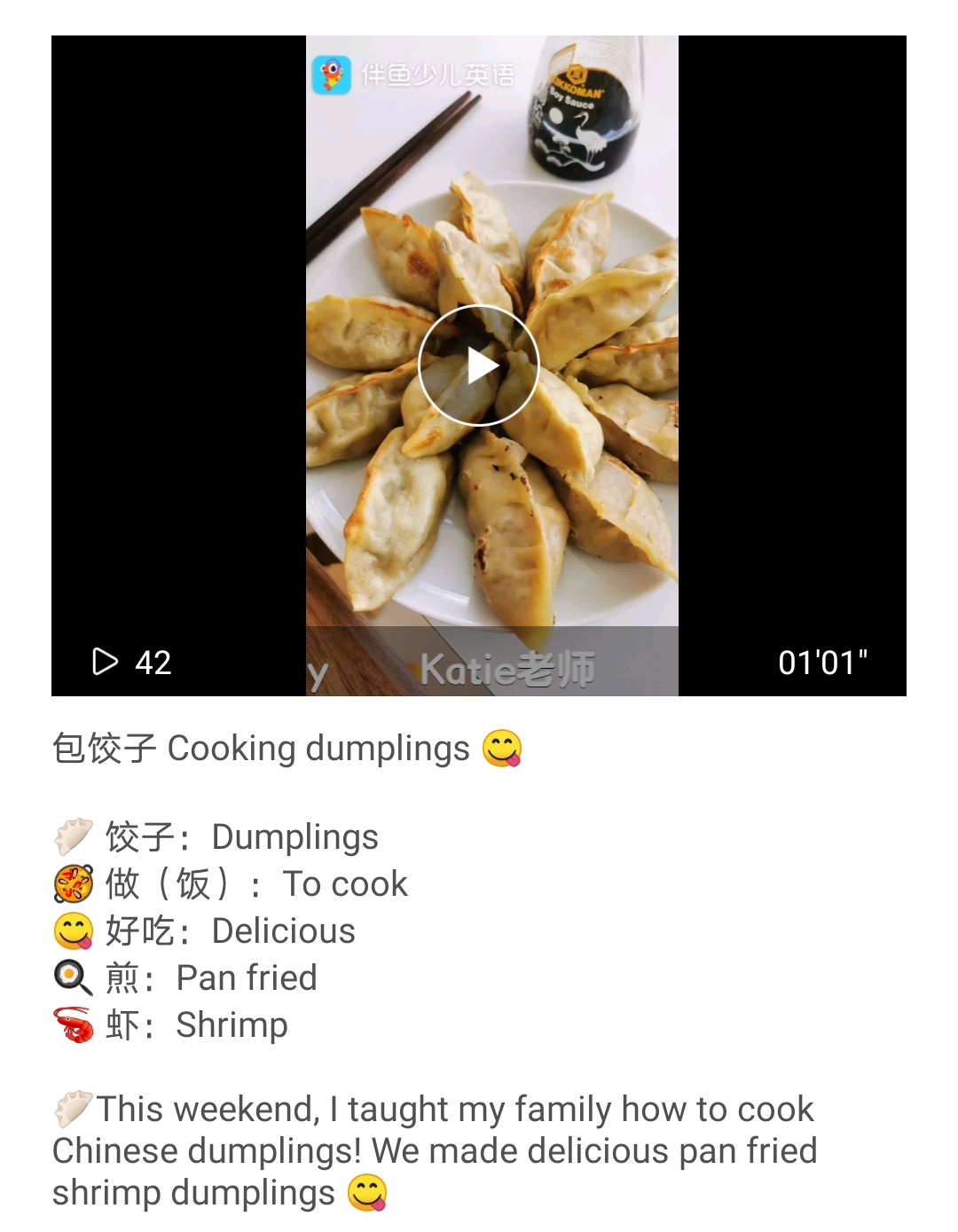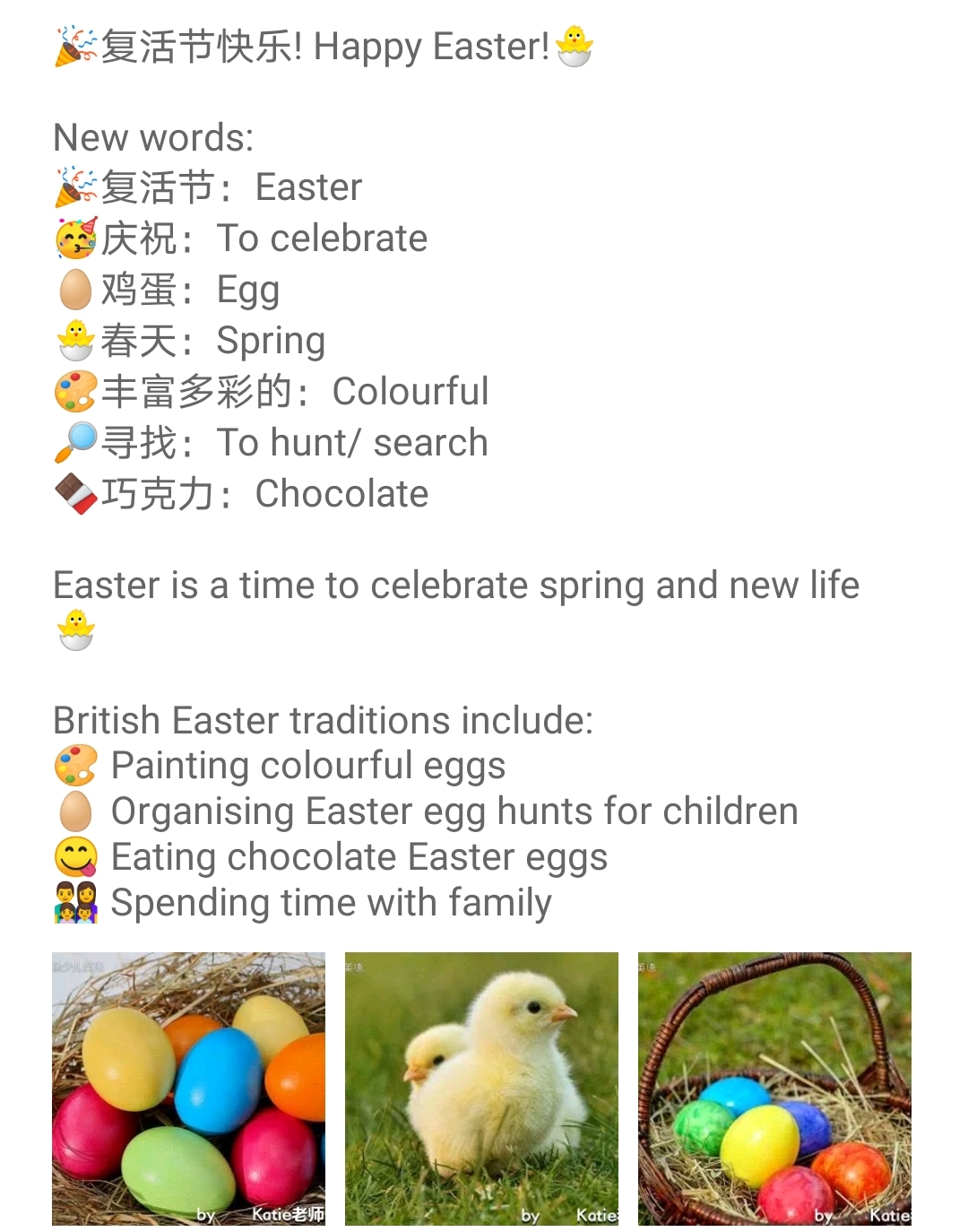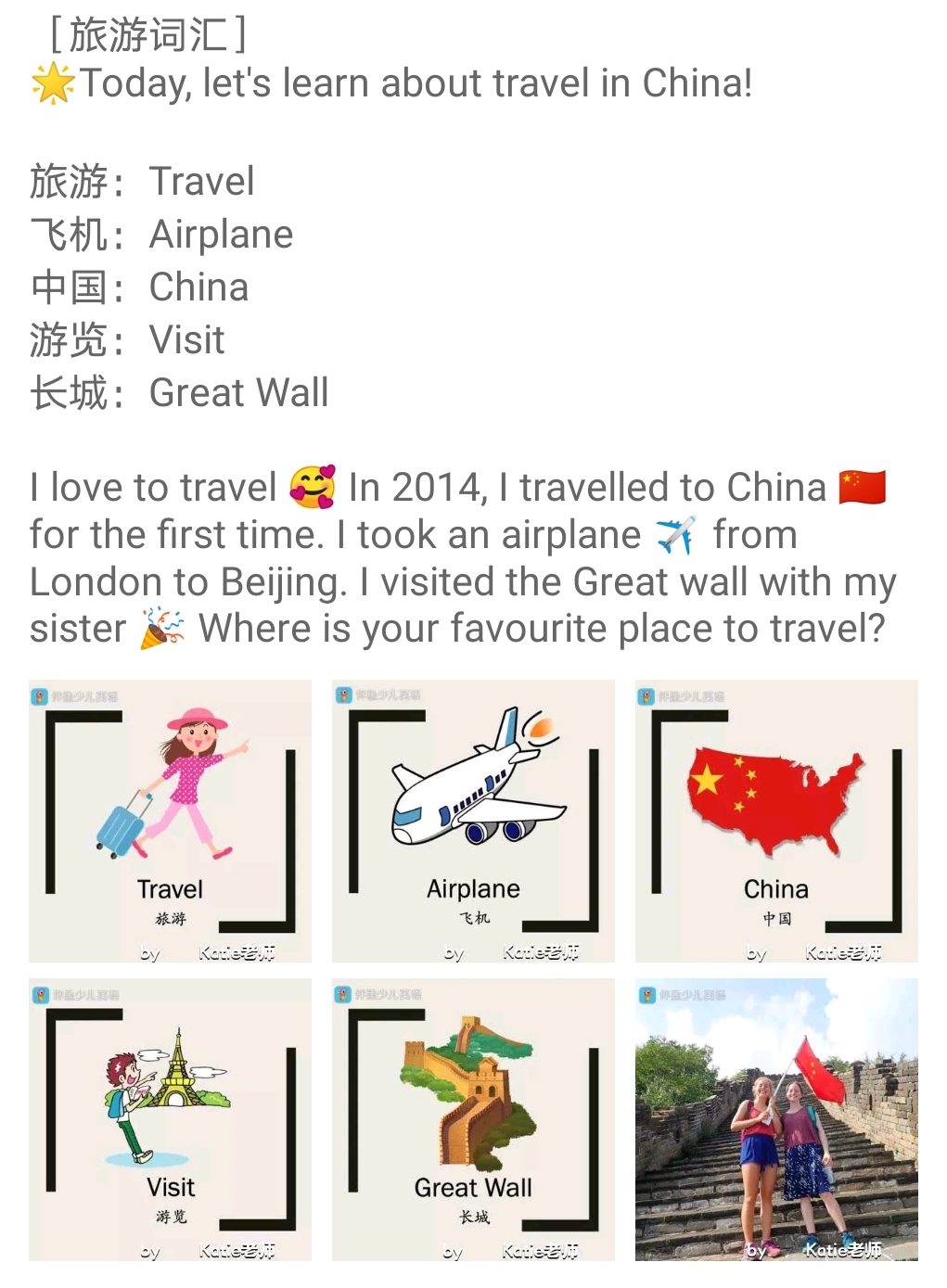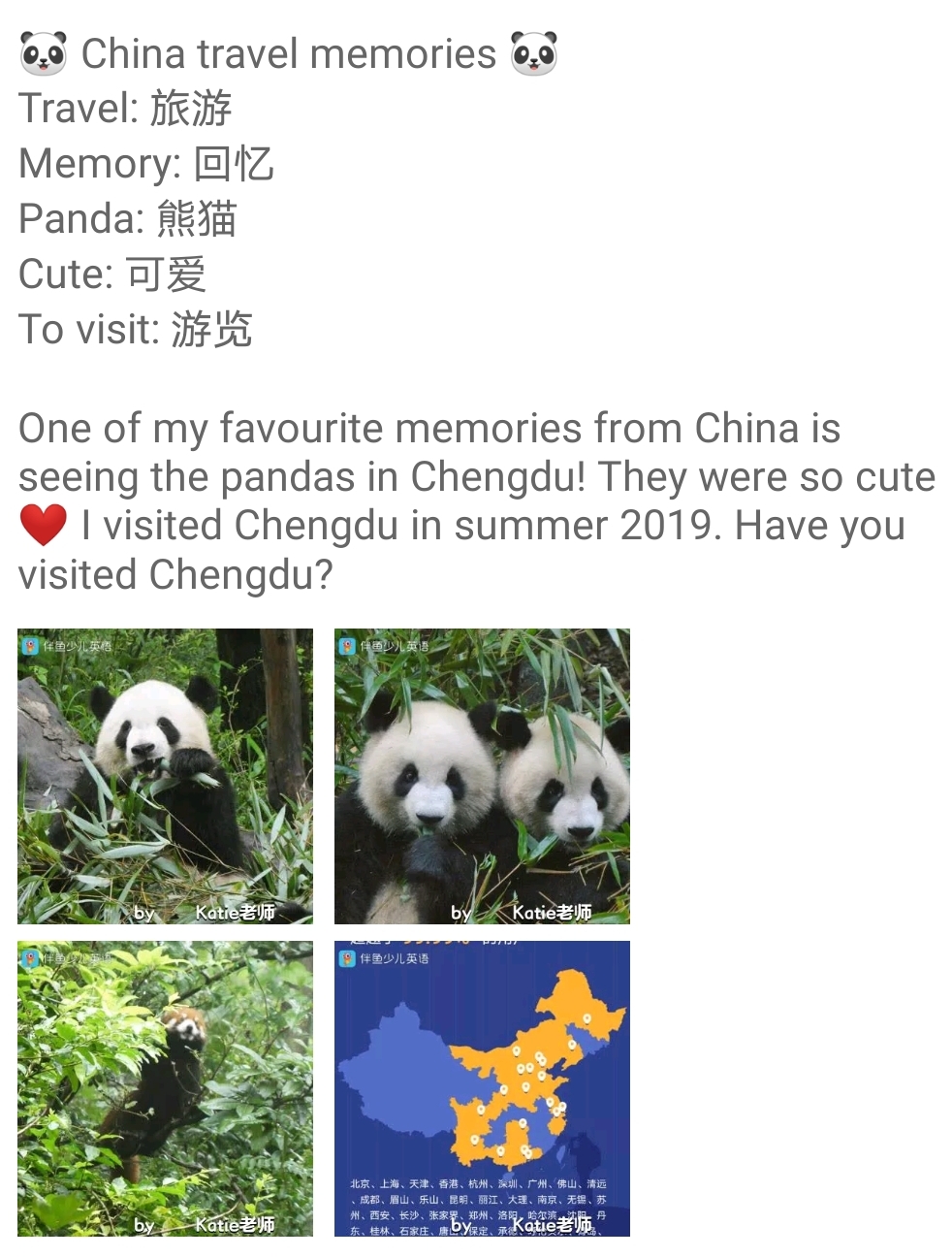 Personal updates with vocab lists
Most general users of WeChat post pictures relating to their daily life, and you can also use this to share an insight into your life outside of China or interesting events which are happening.
I share updates such as a trip to a local tourist site, a picture of some traditional British or Chinese food I have cooked, and information about popular festivals like Christmas.
To add value to your students, I recommend adding a short vocabulary list to the post, which helps them learn something new. You could use emojis next to the keywords, write a Chinese translation, or include image-based flashcards.
Testimonials
If parents write a lovely message to you thanking you for helping their child improve or sharing how they have used their English outside of your classes (e.g. I've had parents send me messages saying their child was top of the class in a test or won a prize at a speaking competition), this is a great testimonial to share on your WeChat moments!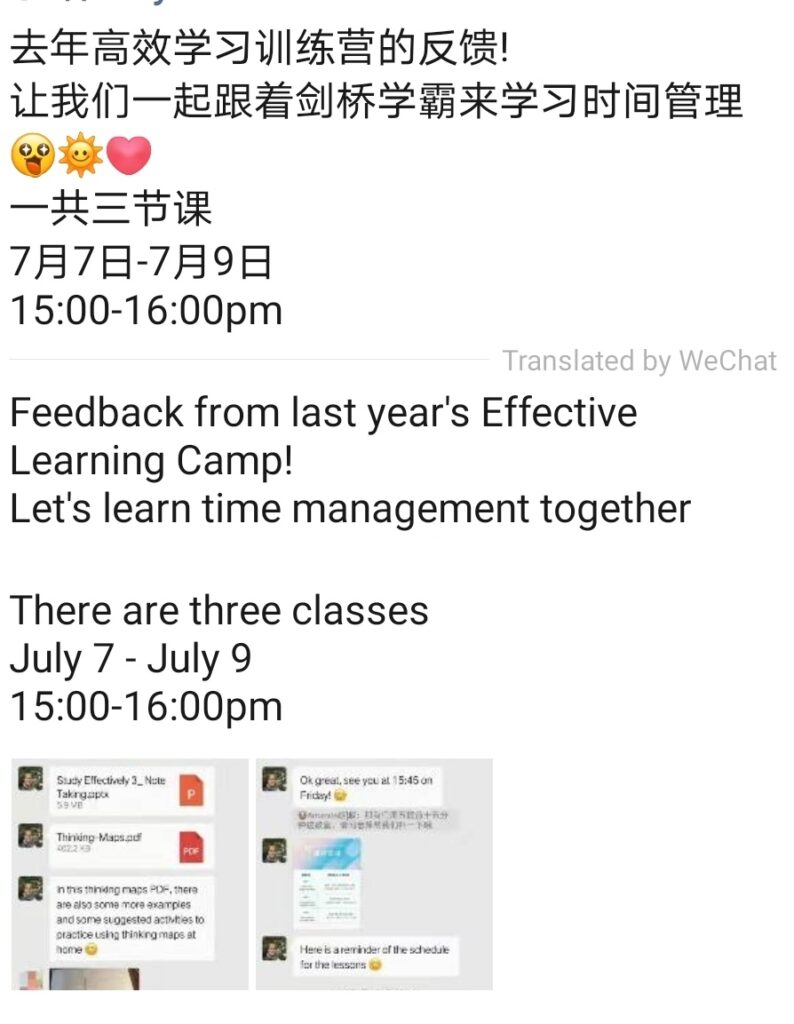 Usually the best approach is to take a screenshot of the comment (this also proves that it is a legitimate comment, not something you made up), blur out any personal details and upload to your WeChat moments, along with some congratulatory message about the student's achievements or how much you love teaching them.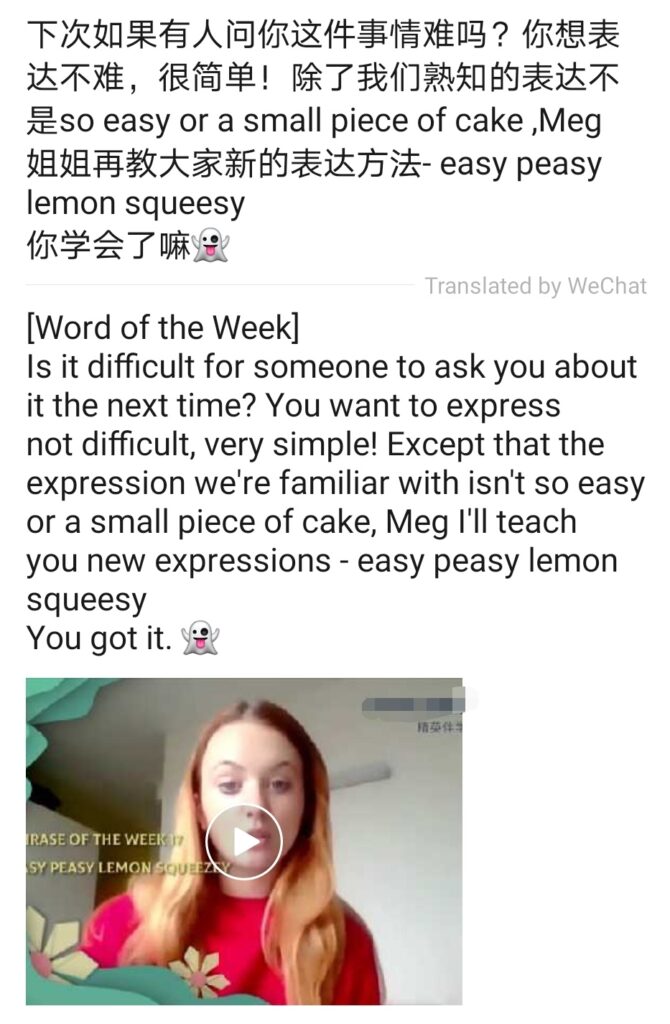 Word/ phrase/ idiom of the week
A great English learning post to share is a featured word or phrase of the week. I particularly like to use videos for this (and I also cross-post on Douyin – see the later module on Douyin marketing!) as it is a bit more fun and students can hear exactly how you pronounce it and use the word in sentences.
Select a word students often get mixed up, has unusual uses in English compared to Chinese or links to one of your lesson topics. Simply explain how to pronounce and use the word or phrase, then share some example sentences.
Don't forget to remind students to comment with their own sentences using this word or phrase – thus providing them with additional practice opportunities.
Task: Post your first WeChat moments post using one of the suggestions above. Share how it went below! How many likes/ comments did you receive, did you notice anyone re-sharing the images, and did it start up any interesting discussions with students/ parents? Let us know if you have any additional tips/ suggestions for success!