What are WeChat groups and why do I need one?
WeChat groups are essentially just group chats within WeChat's main messaging platform – a similar concept to a WhatsApp group chat. Within a WeChat group you can:
Send text or voice messages
Upload images, short videos and documents/ files
Host live video calls (called "group lives") or voice calls
You should also be aware that group members may:
Add other members of the group as friends
Send promotional links or messages within group chats
Therefore, it is important to moderate your group and swiftly remove anyone who shares spam. Be aware that group owners in China may be held legally responsible for anything shared within the group, although this is generally focusing on the sharing of inappropriate or illegal content rather than just irritating promotional messages.
Can I join other WeChat groups?
Yes…. but no. You can only join a WeChat group if you are directly invited by someone already in the group. It is not possible to search for group chats and request to join.
If you have a good network of students and parents, you may be thinking of asking them to invite you to join groups they are in. However, this is extremely unlikely and it would be considered very rude / against WeChat etiquette to even ask. Groups are intended to be a more private space and usually have very strict restrictions on members inviting new people to join in order to avoid spam. Think about WhatsApp groups (e.g. if you are in a group chat for parents at your kids' school) – would you invite someone you're not so close with, particularly someone you know will want to advertise, into that private group?
How can you encourage parents to promote you instead?
A better approach is to encourage parents to promote you on your behalf in these groups. One way my business has done this is to send every parent a personalised promotional refer-a-friend poster or gift card.
These posters should have a way of identifying that particular parent (e.g. writing "referred by Fiona" or a unique number at the bottom), your WeChat QR code and some promotional deal like a free trial class or discount code. In order to get this free trial or discount, someone needs to add you on WeChat and send a copy of this promotional poster (which means you can then track who referred them).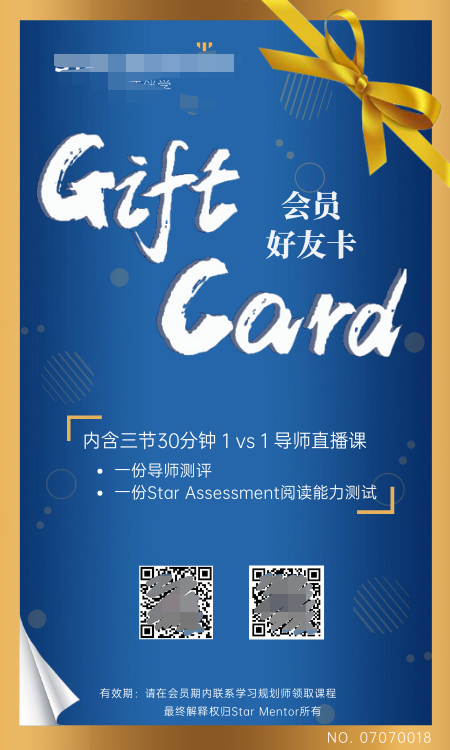 How can I create my own WeChat group (and why do I need one)?
Once you have a small number of WeChat contacts, I would recommend setting up a simple English learning WeChat group. This group is a great way to build more of a community around your tutoring business, provide additional value for your students and also act as a marketing channel.
Although your WeChat moments can also add a lot of value to your students, they may be less willing to engage directly with them as moments are more impersonal. In a small group chat, they may be more confident to reply, write their own sentences and answer questions.
What content should I post?
You can basically post any content similar to the moments ideas suggestions in the previous lesson, particularly focusing on content relevant to English learning. In a group chat though, it is particularly important to encourage interaction – make sure you ask your students to reply with their own sentences or ask them what they did today etc.
Additionally, you can experiment with additional messages such as:
Uploading relevant files such as extra worksheets or summary documents
Having fun challenges where students need to upload a picture, send a message or send a voice message in response
Uploading a series of messages including short videos, pictures, voice messages, text messages, etc on a topic which then creates a mini lesson in itself (e.g. if your moments post that day was about your "word of the week", in your group you could post the same video, plus add a relevant worksheet, send a few voice recordings of the key word and example sentences, then ask students to reply with their own sentence)
What are group lives?
Group lives are essentially just a group video call, using the standard WeChat video calling system. This could be useful if you would like to have a short free class, weekly conversation or homework drop-in club, or a live vlog style video where you take your students on a short trip with you and they can communicate in real time.
However, group lives can be a bit difficult to manage, particularly if you have more than a handful of students in the live, as WeChat does not have the useful video call management features of Zoom like muting students (although they can mute themselves) or screensharing. I would therefore only use this for "fun extra free stuff" rather than a formal class you will be charging students to join.
How can I use groups for marketing?
Groups are one of the easiest WeChat marketing tools, both for converting existing leads (contacts who haven't get purchased classes with you) and for growing your network.
In terms of converting leads, a group is a great way to demonstrate the value you add to students, build a relationship and easily keep in touch with interested leads who weren't ready to purchase classes yet (whereas sending private messages can feel a bit too intrusive and be a lot of effort).
For growing your network, groups are also an excellent tool. Make sure to call your group a more general name like "English learning club", "English homework help club" or "practice English with Teacher Katie" rather than making it exclusive for your students. Then, you can occasionally post a message encouraging your existing group members to invite their friends to join the group – perhaps as part of a competition or in the lead up to a free live/ group class.
Task: Create your first WeChat group and add your students. Write a fun introductory post (bonus points if you do it as a video) welcoming them to your group, encouraging them to reply with a voice message or text message introducing themselves to their new friends, or perhaps post a picture of something interesting they did or learnt today. Share how it went in the comments section below!